Most of my life, I have been an independent Jesus girl. I've lived as if having the mindset of, "I love you Jesus but I got this." As long as I had control of my decisions, my plans, and my desires then I was good. I could have Jesus and still be in control, right That is the way far too many Christians live.
This comfortable lifestyle of going to church on Sundays and as long as we secure our eternity, we can live a selfish existence. We are fine with "His will" as long as it matches up with our will. That was pretty much my life.
New identity
Then God shook up my identity. He began to do a new thing. An uncomfortable thing. You see, He had to perform major heart surgery. He started out by humbling me, then isolating me from outside distractions, purging me from myself, then and only then could I hear His voice.
The voice of the Holy Spirit that tells me, "Give me control. Trust me. I have great plans for you." It's the voice that makes it clear that He wants the glory in my life and He is perfect in all of His ways.
Oh, the depth of the riches of the wisdom and knowledge of God! How unsearchable His judgments, and His paths beyond tracing out! Who has known the mind of the Lord? Or who has been His counselor? Who has ever given to God, that God should repay them? For from Him and through Him and for Him are all things. To Him be the glory forever!" – Romans 11:33-36
My story • His glory
Time and time again, I have watched God get all the glory in my life ever since I surrendered every part of me to Him. He opens doors that no man can shut and shows up when I cannot.
Also, He brings just the right people into my life for a purpose. This is all Him. He makes sure to set up details in such a way, leaving no doubt of it being only Him.
That doesn't mean that I don't plan with two businesses and ministries. But really they are His businesses. I allow Him to shift my plans according to His greater purpose.
I wake up each morning, dedicating the day to Him. I'm expectant, He will show up for He loves surprising His children. This renewed life gives me an overwhelming sense of peace and removes the stress factor that comes with trying to be in control.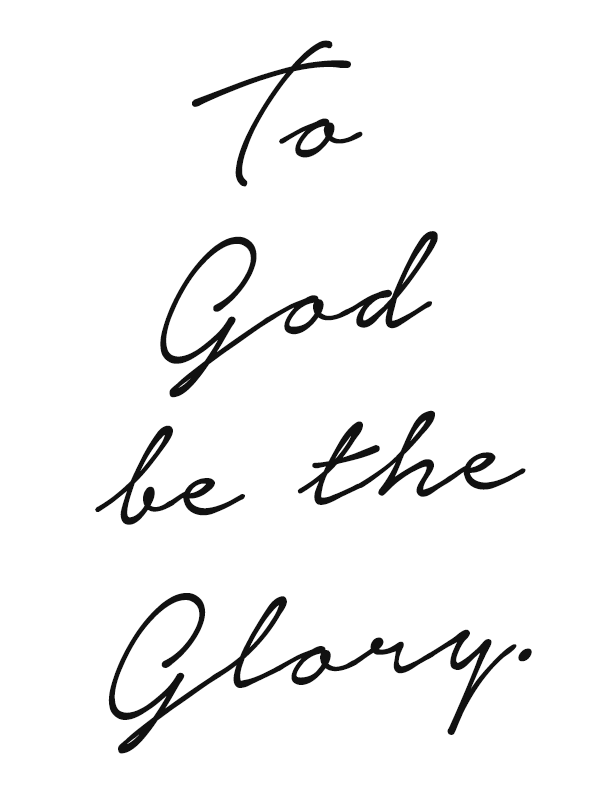 He wants to be the same God in your life. If you are willing to surrender your time to Him, your life to Him then He will shine brighter than we ever could. Life with Jesus is a wonderful adventure.
Let's pray
"Lord, thank you for your great love and mercy. I surrender my day to you and release control. I ask for divine appointments that will give you all the glory. Give me your perspective. Fulfill my purpose. Amen."